These ministries support the community and those in need.
Bereavement Ministry
The Bereavement Ministry provides support to bereaved families. The ministry assists the Pastor with arrangements for the family, works with the church ministries to ensure the family and church needs regarding the service are communicated, and provides aftercare services to the family. To volunteer, please see Sister Donna Smith.
Bread and Pastries
Each Tuesday and Thursday, bread and pastries are distributed to homeless and low-income persons. Volunteers are needed to distribute bread and pastries for one hour blocks. For more information, please contact Sister Carolyn Bailey.
Community Meal
Each third and fourth Saturday, meals are provided to homeless and low-income persons. Volunteers are needed to lovingly serve meals, clean up facilities, and provide minor security. To volunteer, please see Brother Willie "Butchie" Cray or Sister Debra Bellesen.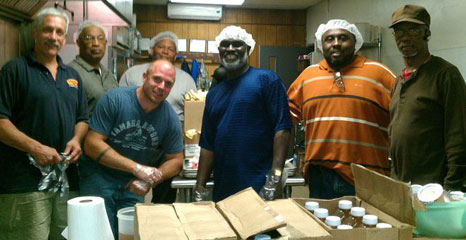 Evangelism Ministry
The Evangelism Ministry organizes methods for church growth, brings salvation and hope to the lost, and assists the Pastor in leading people to accept Jesus Christ as Lord and Savior. This Ministry consists of a Street Team, Special Events Team, and Outreach team. To volunteer with this ministry, please Evangelist Melanie Moore.
Great Week of Service
The Great Week of Service is a collaborative venture between Asbury First United Methodist Church and Baber where volunteers paint, cook, garden, and serve the greater Rochester community.  For more information, please see Sisters Linda Cloud, Cynthia Sullivan, Betty Crews or Brother Eugene Crews.
Rise Up Rochester
Rise Up Rochester is a human service agency that provides support to crime victims and their families and empowers the community to establish and maintain a nonviolent culture. To volunteer with this movement, please see Sister Wanda Ridgeway.
RUR Programs include:
Billboard Contest
In partnership with the Rochester City School District and the Rochester Youth Violence Partnership, K–12 students annually participate in a "stop the violence" poster contest. The top posters, determined by a citywide panel of judges, are placed on billboards throughout the city. Additionally, volunteers from Rise Up Rochester speak to classes about violence prevention.
Support Group
The Support Group incorporates family members and friends at all stages of grief after the loss of a loved one to homicide. The support group works together to find voice, access referrals, and create opportunities for advocacy. The Support Group meets on the second Saturday at 2:00pm and the 3rd Tuesday of each month at 7:00pm at 244 South Plymouth Avenue, Rochester, NY.
Visit RiseUpRochester.net.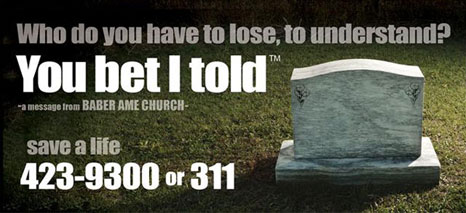 Sarah's Clothes Closet
Each third and fourth Saturday, the Baber Family distributes clothing to homeless and low-income persons. Volunteers are needed to distribute clothing and maintain Sarah's Closet. To volunteer, please contact Sister Betty Crews.
Scholarship Fund
the Scholarship Fund annually provides scholarships to college students for a maximum of four years. Also, seminars on pertinent subjects are provided periodically. The Scholarship Fund meets the Monday after the third Sunday of each month. For more information, please contact Sister Celestine Thomas.
Social Action Ministry
The social action ministry educates, equips, and mobilizes the congregation to address local, regional, national, and global issues and policies that influence one's quality of life. For more information, please contact any member of the Board of Stewards.
Women's Missionary Society
The WMS helps people grow in the knowledge and experience of God through continual training, as well as individual and collective mission work and advocacy for human rights. The WMS meets on the 2nd Tuesday. To join this ministry, please see Sister Betty Crews.